Fall in Full Swing!!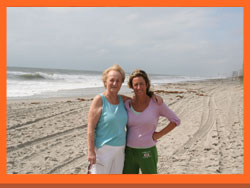 First of all I want to thank my substitute teachers who gave up part of their summer to cover for me and help to keep my classes alive. Without you guys I would not have a job when I got back. I thank you and all the students who went to your classes all summer. You can always learn something from a different teacher, but it takes being flexible and open to try. So I give big thanks to everyone.
One of the best parts about going away is coming home. Don't get me wrong, my Mom's house in South Carolina is nice and this year she finally replaced the rock hard mattress that never really conformed to my body, with a nice soft pillow top one. Plus she has the best front and back decks where afternoon naps were frequent. But it's still her house and her rules, and for some reason I'm always just a little kid again. So being that I just turned fifty, I should be able to do all the things I normally do at my own house. Yes I can cook and I know to come home from the beach when a lightening storm hits, without being told. But I guess its just part of her being her, a Mom. Her health is good which matches her spirit and that makes me happy.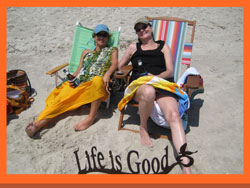 Yes it's true; I did turn fifty in September. The age thing is kind of strange since I feel so much younger than that number implies. I keep waiting to grow up, it's like I can't turn fifty, when I haven't matured yet. So isn't age more about how you feel than the number of years you've been alive. Why can't we just choose a number based on that? Sometimes when I'm with my mother I'm no more than 10. At times when I feel very mischievous, like this summer when the sprinklers came on the golf course at night and I had to run through them, I felt all of 15. Most days I feel beautiful smart and happy to say I'm my true age. So now that I'm fifty I realize I don't have to be mature or have it all together because I don't think that's what life is about. Being present here and now and not worrying about where you're going or how it's supposed to turn out is all part of this crazy journey. I think maturity is for wine and for me well, I still want to run through sprinklers.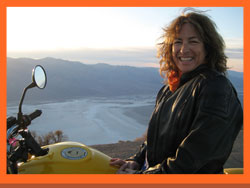 Every year, I sublet my place out to a variety of people. I know that some people could never do that, but I feel it's like practicing non-attachment. I don't mind if something breaks or gets lost, to me it's just nice to have someone there to rent and to enjoy it. This year I was lucky enough to have two wonderful gentlemen that work for Hospice of the East Bay as renters. I say lucky, because my landlady that lives next door passed away a week after I got home and they were pure angels to her and her family. It was truly a gift and a major miracle that they just happened to be the ones that were here. (Death can be a beautiful experience once a person is ready for that next journey. The sad part is it was more humane the way I was allowed to put my dog Bruno down rather then the struggle my lovely landlady Irene went through.)
Now more then ever we need our yoga practice and our community. It's time to de-stress and get out of our heads. The world is ever changing and sometimes, especially now really wild. So it's a perfect time to come to the mat and get grounded. There isn't a lot you can do about the craziness. But you can take care of yourself and know that everything is impermanent. So take care of what you can and most importantly take care of yourself!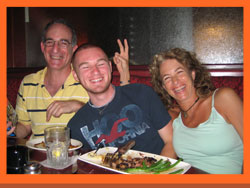 I've changed some classes to maybe help you to do that, so check out the schedule page on this site and I've described what you can expect from all my classes.
The Diablo Yoga Center has a new owner, Kamla Sufi and talk about changes. She is incredibly smart and is shaking everything up there. I love it. So be prepared if you haven't been in a while we now have a full wall where the fireplace used to be. She has been practicing at the studio for over ten years and she knows what she is doing. So give her lots of love and support. Because it is an act of love to run a yoga studio, trust me it's not for the money!
November Reminder:
My Teacher Tony Briggs will be at the Yoga Company in San Ramon on November 15th. With his years of experience and studies with the masters, plus is own unique spin on things, then add his crazy sense of humor, what you have is a real treat and a huge learning experience. . He teaches mainly at his own studio in San Anselmo, as well as in San Francisco and Marin and only comes over here once or twice a year. Please go and have a great time.
The Annual The Thanksgiving Intensive will be happening again this year. Please try to register early, as this tends to fill up. Please invite your friends and family, as I love to meet your clan.
I leave you with this from Swami Satchidananda:
Remember, yoga practice is like an obstacle race:
Many obstructions are purposely put in the way for us to pass through.
They are there to make us understand and express our own capacities.
We all have that strength, but we don't seem to know it.
We seem to need to be challenged and tested in order to understand our own capacities.
In fact, that is the natural law.
If a river just flows easily, the water in the river does not express its power.
But once you put an obstacle in the flow by constructing a dam,
then you can see its strength in the form of tremendous electrical power.
Namaste, Lauren Davis