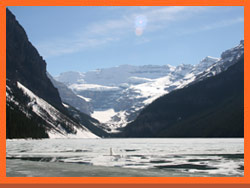 Wow here we go into another year. They are coming and going so fast it's making my head spin. We better hang on and enjoy the ride. Yes enjoy yourself, your life and your future. As far as we know, we only have this one life, so let's make the most of it.
Okay I know that if you've lost your job, your house and your money, it's hard to see anything positive. But just hear me out.
When you are on vacation or just hanging out with your spouse or friends, haven't you ever talked and dreamed about something you "really wanted to do"? Maybe it was a different career, hobby, change of location, or some place to travel.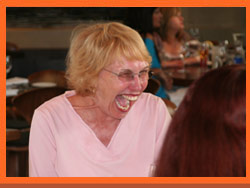 No matter how ridiculous it may have sounded, you just fantasized about it. What if you had the freedom to do what ever you wanted? Now just for a moment think how that would feel in your body, mind and spirit. Think about how much happier you would be if you got to live out your dreams.
Fast forward to this hellacious economy. Maybe you have lost your job, and perhaps your home. Now is the time to reach for those dreams. Get creative and start brainstorming. How many chances do you get to change the course of your life? We get caught up in the drudgery of our jobs, the paying our bills and slogging through our obligations, we can barely lift our heads up. Sometimes getting a huge kick in the butt is just what we need.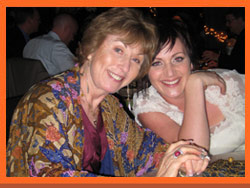 Look, as long as the money is flowing in my direction I admit it's hard to make any real changes. But when life throws you a curve ball, maybe it's time to go after your true dreams. Many years ago I was a sales rep for a sunglass company and I got laid off. After the devastation I sat and thought about what I always dreamed of doing. At the time I had always wanted to live in Lake Tahoe. So I did it. I moved out of my place and barely scraped a living up there. It was truly sweet for my body, mind and spirit. (Didn't hurt my skiing either.) From there I led bicycle tours in Vermont, which was another dream. Then a great job opportunity brought me back to California.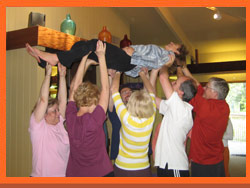 So all I'm saying is when something happens in your life that forces you to stop the daily grind, why not try some of your dreams.
I want to live life to the fullest. When my number is called, my ticket is up, or whatever happens, I hope to go, knowing I lived a good life. I know the economy is really bad, and I firmly believe we can rise above this major fall out and be better for it. I just know it. Every time I've made it through some horrendous time in my life, I get stronger and smarter and the joy is sweeter.
So what do you have to lose if you just try to chase those crazy dreams?
And here's some new stuff starting February 2009:
I'm offering a Donation Only Class on Friday's 3-4:15 at the Diablo Yoga Center. Everyone is welcome. This means you can come and practice and pay nothing if you have nothing, or pay whatever feels right for you.
SATURDAY MORNING INTENSIVE
Saturday morning 3 hour intensive the first Saturday of each month starting in February. 8-11am extra Charge of $10 per student.
In March my dear amazing friend Gina Fong is coming to DYC for a weekend of Making Mandala's. If you have never made one, or don't even know what they are, or if you are not the artistic type, then this is a great place to start. Art is so cool and Gina is a hoot. I'll see you there.
And I leave this from Sylvia Boorstein:
Pain is inevitable. Suffering is optional.
And this from Stephen Cope:
Suffering is created by wanting things to be other that they are.
Namaste, Lauren Davis